Tinubu Didn't Get The Required 25% Vote In FCT, Which It's A Violation Of The Constitution– Kenneth Okonkwo
Bola Ahmed Tinubu has been proclaimed the victor of the 2023 presidential election in Nigeria by the electoral agency, INEC. Prior to Tinubu's planned inauguration on May 29, both Atiku Abubakar of the People's Democratic Party and Peter Obi of the Labour Party have filed lawsuits contesting the outcome.
In an essay that was published in The Sun, Peter Obi's attorney, Kenneth Okonkwo, expressed some scepticism about Tinubu's triumph. According to Okonkwo, Tinubu did not receive the requisite 25% of the vote in the FCT, which is against the law. He asserts that deliberate violations of the constitution, INEC regulations, and election laws were committed in order to skew the results of the vote. Furthermore, Okonkwo contends that history has shown that people are not inclined to accept a government that does not derive its power from the people. He emphasises that if Tinubu is not sworn in on May 29 with documentation proving his victory, the new administration would be perceived as having been elected by INEC rather than the Nigerian people. Okonkwo has asked INEC to produce proof of Tinubu's election win to the Nigerian people in order to support this request.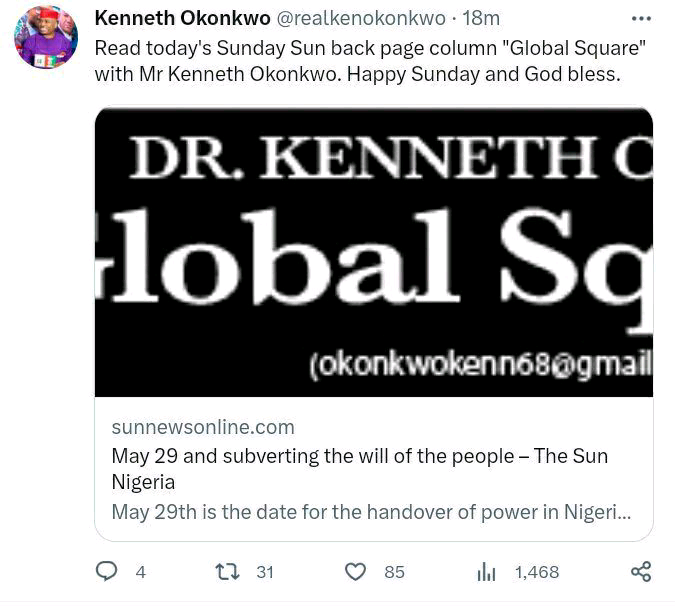 Source: The Sun
Content created and supplied by: GAINING (via Opera
News )