Today's Headlines: Opposition Planning To Scuttle My Swearing-in – Tinubu, Obasanjo, Iwuanyanwu condemn Igbophobia, sue for peace
Opposition Planning To Scuttle My Swearing-in – Tinubu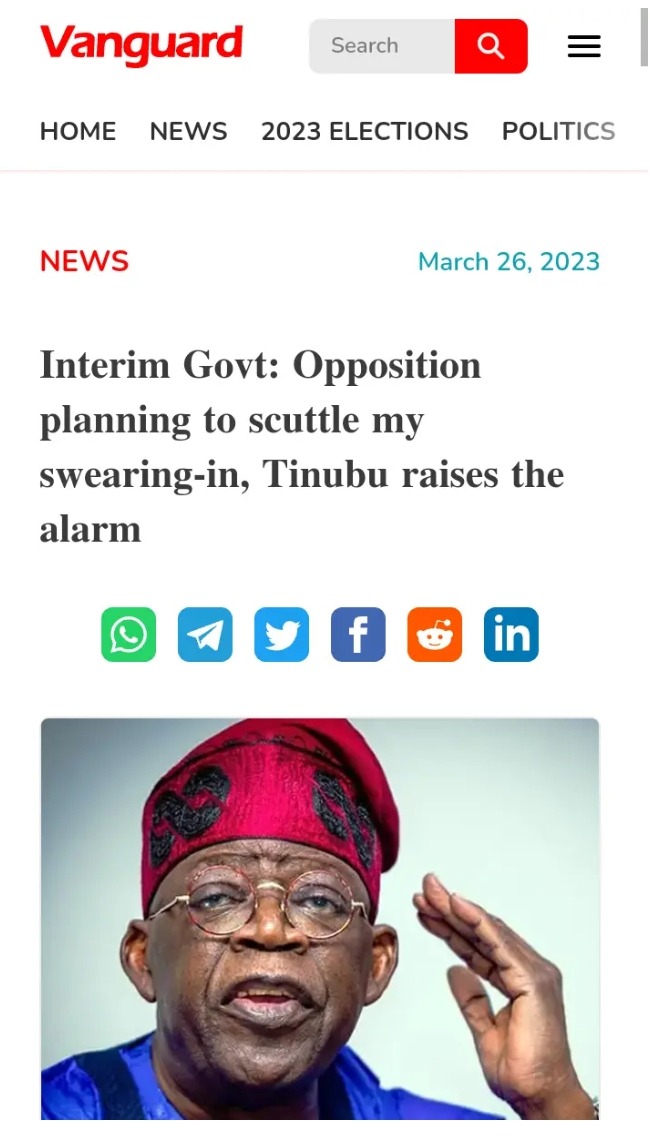 Photo Credit:Vanguard Newspapers
President-elect, Asiwaju Bola Tinubu, has raised the alarm over alleged plots by some aggrieved partisans to truncate the transition process, particularly his expected swearing-in on May 29.
Tinubu, in a statement by his Director, Public Affairs and Minister of State Labour and Employment, Mr Festus Keyamo, SAN, also warned the presidential candidates of the Peoples Democratic Party, PDP, Alhaji Atiku Abubakar, and that of the Labour Party, LP, Mr Peter Obi, against taking to the streets while also pursuing their cases in court.
In the statement in Abuja, the President-elect noted that those who have taken to the streets protesting against his mandate are fixated on having an Interim National Government ING.
Part of the statement reads: "We have watched with great concern the condemnable activities of some persons and groups who are desirous of truncating our democracy.
"For reasons best known to them, these persons have remained embittered that Asiwaju Bola Ahmed Tinubu was declared winner of the 2023 General Elections. Repeatedly, but unfortunately, these misguided individuals have called for either the cancellation of the results or that the President-elect should not be inaugurated on the 29th of May, 2023.
OBJ Condemn Igbophobia, Sue For Peace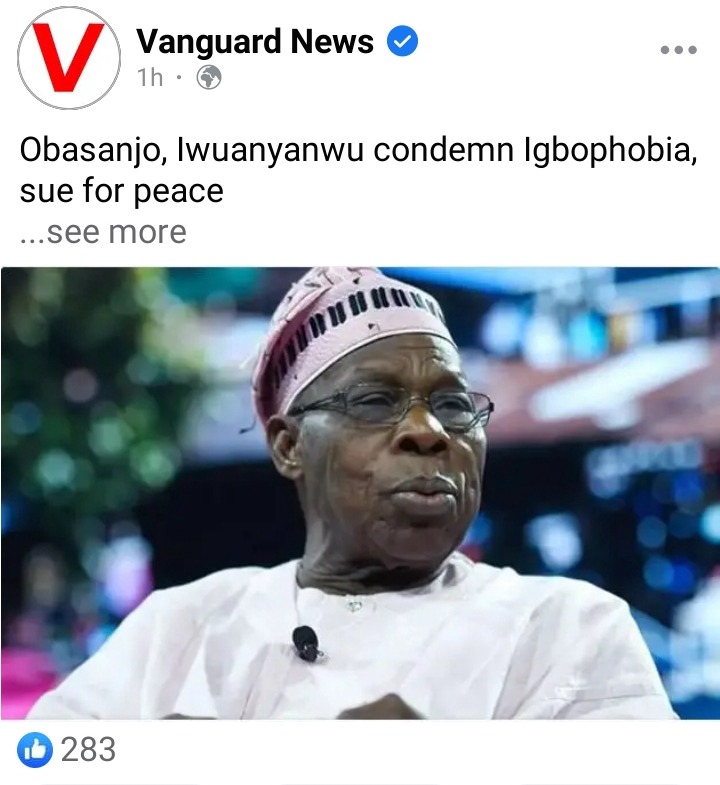 Photo Credit: Vanguard News
Former President Olusegun Obasanjo, yesterday, condemned what he described as Igbophobia, saying Nigerians should conquer evil with good.
Igbo were targeted during the presidential and governorship elections in Lagos, leading to fears of an ethnic uprising.
But Obasanjo, who spoke in Awka during the one-year anniversary of Governor Chukwuma Soludo's administration, said people should strive to be friendly with those who are afraid of them.
The former President recalled how someone said he made a mistake by appointing two Igbo, Soludo and Ngozi Okonjo-Iweala, as Central Bank Governor and Minister of Finance respectively.
Senate Presidency Shouldn't Be Zoned – Basiru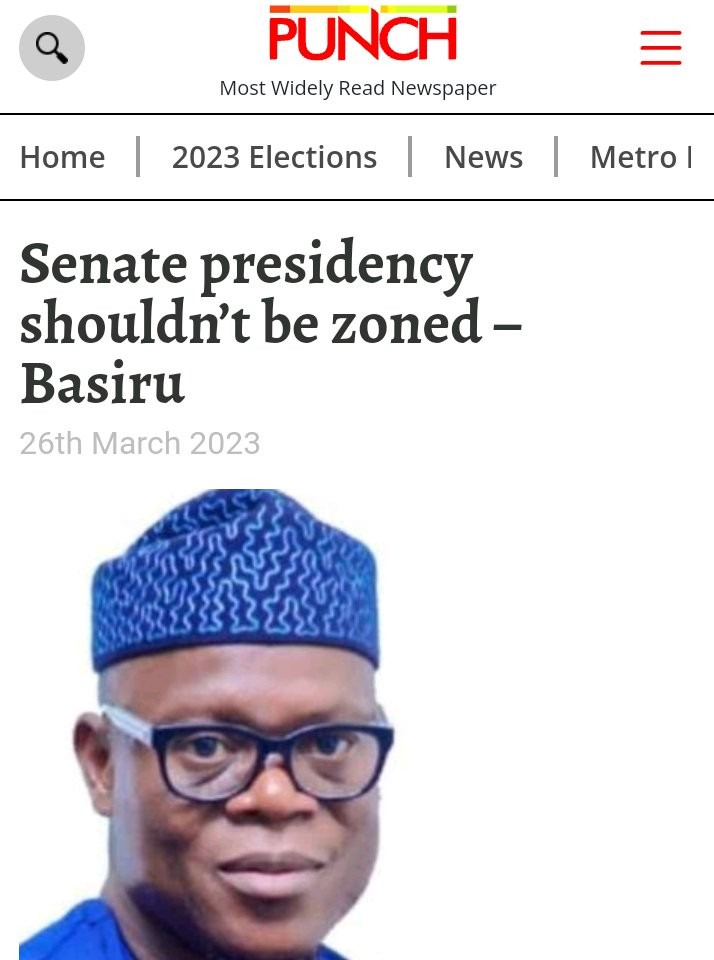 Photo Credit:Punch Newspapers
The spokesman for the ninth Senate and the lawmaker representing the Osun Central Senatorial District, Senator Ajibola Basiru, has kicked against zoning of leadership positions in the 10th Assembly.
Basiru said in an exclusive interview with Sunday PUNCH that if all geopolitical zones were allowed to contest freely during the presidential election, then each zone should be allowed a fair contest for the National Assembly leadership.
Following the National Assembly election that took place on February 25, the ruling All Progressives Congress maintains a majority in the Senate, having secured 57 seats.
The APC senators eyeing the Senate presidency have been lobbying their colleagues for support.
Ranking senators who have indicated interest in the job are Jibrin Barau (Kano), Uzor Kalu ( Abia), Sani Musa (Niger), Godswill Akpabio (Akwa Ibom), and Dave Umahi (Ebonyi).
Basiru said, "Personally, I don't believe that the Senate presidency should be zoned because in the just concluded presidential election, there was nothing like zoning; the leading four candidates came from different parts of Nigeria; two from the southern part – Peter Obi from the South-East, while Asiwaju Bola Tinubu is from the South-West.
Our Silence Not Cowardice, Keyamo Warns Opposition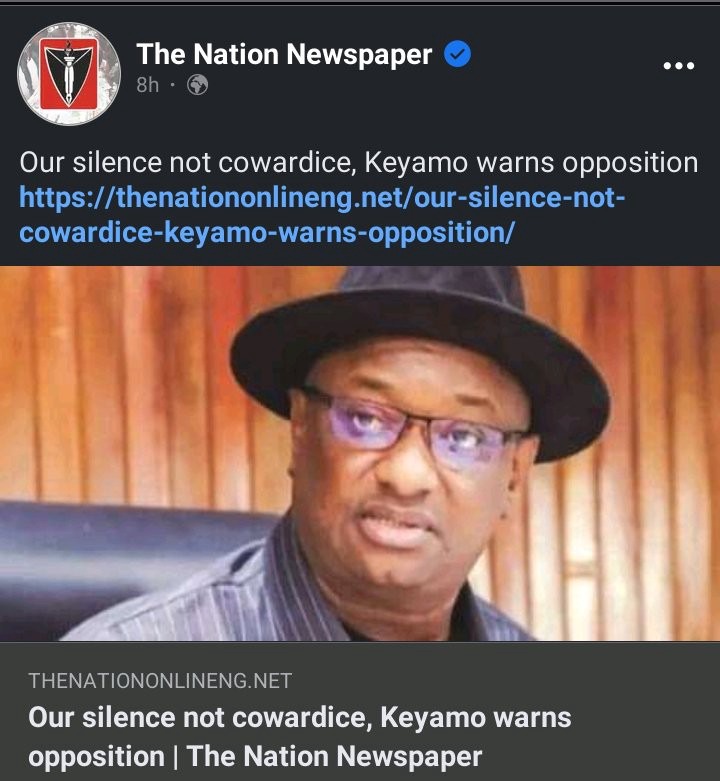 Photo Credit: The Nation Newspaper
The All Progressives Congress Presidential Campaign Council ( APC PCC) has warned opposition parties not to carry their luck too far with their persistent protest against the outcome of the February 25 presidential elections, insisting that they should not take their silence for cowardice.
The council's Director, Public Affairs and Chief Spokesman, Barrister Festus Keyamo (SAN) handed down this warning on Saturday in a statement in Abuja, following calls and actions of opposition which are geared towards truncating democracy.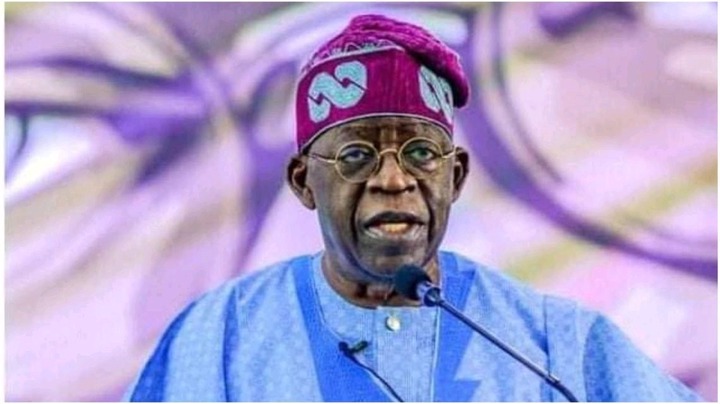 Photo credit || Google
Content created and supplied by: Newsavage (via Opera
News )