Check Out The Team That Has Played In Every World Cup Since 1930
The FIFA World Cup is one of the most anticipated and exciting quadrennial events in the world of sports. It brings together the best football teams from international associations to compete for the coveted trophy. The tournament was first held in 1930, and since then, it has been played every four years, except for 1942 and 1946 due to World War II. The inaugural tournament was won by Uruguay, but Brazil holds the record for being the only team to have played in all editions without any absence or needs for playoffs.
Brazil's dominance in the tournament is unparalleled, as they have won the World Cup a record five times. They also boast the best overall performance in World Cup history, with 73 victories in 109 matches played, a goal difference of 124, and 237 points, with only 18 losses. This outstanding record in both proportional and absolute terms is a testament to their prowess on the field.
The World Cup has been won by eight national teams, with Brazil leading the pack. It is considered the most prestigious association football tournament globally and the most widely viewed and followed single sporting event worldwide.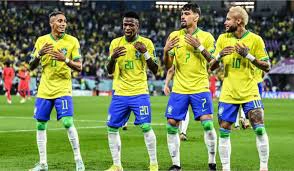 One of the most memorable moments in the history of the World Cup was on June 29, 1958, when Brazil defeated the host nation Sweden 5-2 to win its first World Cup. The Brazilian team was a favourite going into the tournament, and they lived up to the hype, showcasing their spectacular play, which was often referred to as the "beautiful game." This victory solidified Brazil's place in football history and cemented its status as one of the greatest teams of all time.
Photo Credit Google
Content created and supplied by: TalkSport10 (via Opera
News )