Governors did not visit Buhari during ASUU's 8-month strike, 5 months of fuel scarcity- Oseni Rufai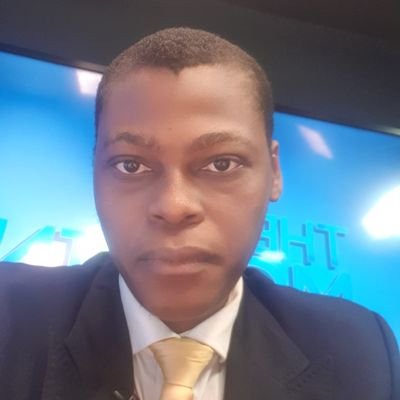 Nigerians are facing a hard time over the issue of fuel scarcity and unavailability of the new Naira notes. Punch Ng earlier reported that some Nigerian governors held a meeting with the President of the country, Muhammadu Buhari in Abuja over the issue of the new Naira notes. It was gathered that the Governors pleaded with Buhari for a quick solution to the sufferings Nigerians are facing while trying to acquire the new notes. Buhari assured that he is aware of the situation at hand and promised Nigerians a significant improvement before the time given for the collection of the old notes elapses.
Reacting to the visit, a popular journalist and Arise TV anchor, Oseni Rufai called on the governors for failing to take action on previous sufferings faced by Nigerians. According to Rufai, the Governors are visiting Buhari now because they are aware that the new Naira policy will have a great effect on them. He explained that when Nigerian students spent 8 months at home due to the ASUU strike, they never visited the president but because the new Naira design policy will stop vote buying, they are trying to stop it.
Part of his statement goes: "Governors did not visit Buhari during ASUU's 8-month strike, 5 months of fuel scarcity. The Naira design will stop vote buying, the Governors went to visit Buhari to stop it. The question is do politicians really care about you?"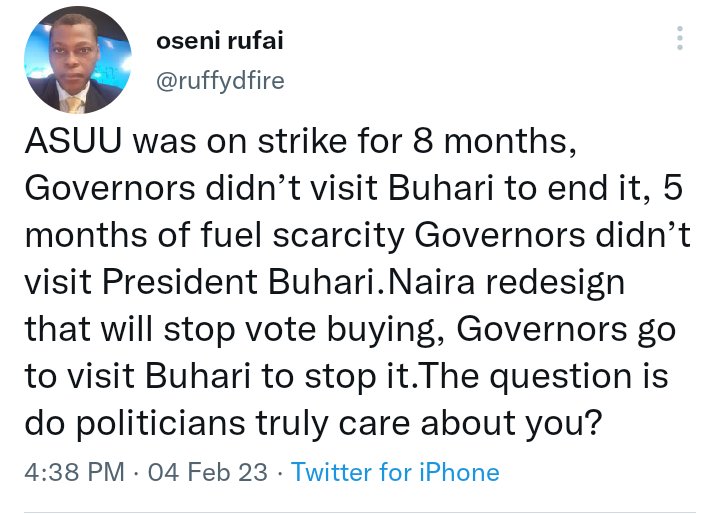 Content created and supplied by: Lilridex (via Opera
News )