Tinubu Suffers Another Gaffe While Addressing His Supporters At APC Campaign Rally In Benue (Video)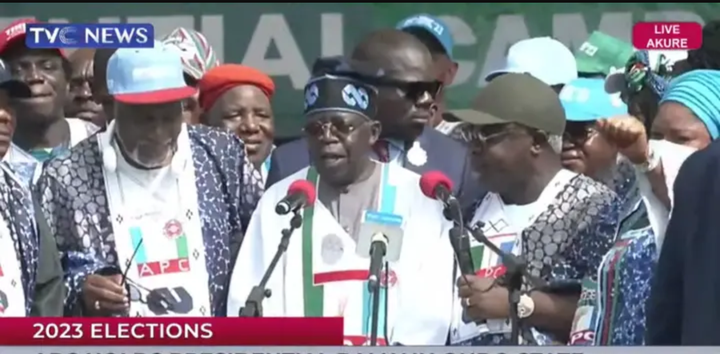 The Presidential Candidate of the All Progressive Congress (APC) and the former Governor of Lagos State, Asiwaju Bola Ahmed Tinubu, on Tuesday, held his presidential campaign rally in Makurdi, Benue State. Thousands of the supporters of the former Governor and Presidential Candidate of the APC trooped out in numbers and showed their support for him.
However, Tinubu while delivering his speech to his supporters at the presidential campaign rally in Makurdi, Benue said, "On the 21st of February, what will you do? Will you vote for your progress? I am assuring you all our students that once you vote for me, we establish you all."
Nevertheless, the 2023 presidential election has been scheduled to hold on the 25th of February, rather than the 21st of February that Bola Tinubu said during his campaign today.
Fast forward the video to 8:34 minutes
Dear readers, feel free to drop your comments below and also share this article with your loved ones.
Content created and supplied by: Garbxtpen (via Opera
News )