Go To The North-West Where I Am From, Where Is Peter Obi's Base There? – Hon. Ali Gaiya
In an exclusive interview with Nigerian Tribune, the former member of the House of Representatives, Honourable Godfrey Ali Gaiya was asked if the major opposition party, the Peoples Democratic Party (PDP) presidential candidate, Atiku Abubakar has what it takes to defeat the presidential candidate of the ruling party, the All Progressives Congress (APC), Bola Tinubu, Labour Party (LP) presidential candidate, Peter Obi and the New Nigeria Peoples Party (NNPP) presidential candidate, Rabiu Kwankwaso ahead of the 2023 presidential election. 
In response, Hon. Gaiya said that only the ruling party, APC and the major opposition party, PDP has national spread and political structure in all the 36 states in Nigeria. He opined that winning a presidential election cannot be limited to winning a state or a zone, but it's about performing well in all 36 states. He noted that the laws of the federation are clear and for any presidential candidate to win the presidency, it's a prerequisite for such candidate to win the largest or highest number of votes and must be able to secured the maximum of 25 percent votes in at least two-third of the 36 states, including Abuja.
He opined that there is no guarantee that the presidential candidate of the NNPP, Kwankwaso would get 25 percent votes anywhere outside of Kano State. He noted that Kano State is Kwankwaso strongest voting base and he might got up to three million votes in the state. He said he did not see Kwankwaso and Peter Obi's Labour Party (LP) getting 25 percent of the votes. He also opined that Peter Obi has no voting base in the Northwest geopolitical zone, and he cannot even win a single state out of the seven states in the Northeast geopolitical zone and also in the Southwest geopolitical zone. 
He said that outside of some parts of the North-Central geopolitical zone, he's not sure where the Former Governor of Anambra State, Peter Obi intended to get the highest number of votes in Nigeria and still be able to get the 25 percent votes required to win the presidency. He further added that, the choice of presidential ticket of the ruling party, APC would surely affected their chances of winning some core Christian states in the Northern geopolitical zones and such move has paved a way for the Former Vice President to emerged victorious at the 2023 presidential election.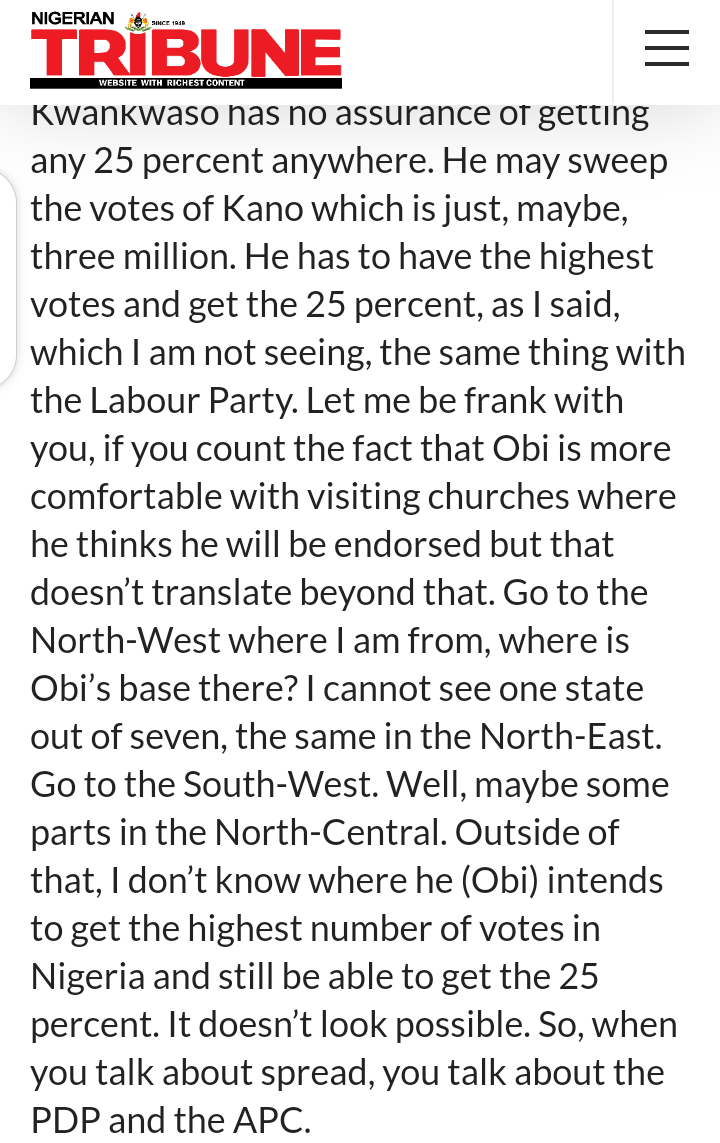 Source: Nigerian Tribune
Content created and supplied by: KayWealth (via Opera
News )